For Parents
The best place to begin guiding our kids in making decisions about alcohol and other drugs is in the home. Research has shown that kids who learn the anti-drug message at home are 50% less likely to start using. We suggest beginning drug education early – and is a natural part of family projects and mealtime talks. And if it's too late to start "early," start anyway. Your kids may not know as much as they think.
Keep your eyes open. Know who your son is with. Know where your daughter is tonight. Lots of factors can impact a young person's risk of becoming a drug abuser. Negative factors – those which can increase the likelihood of drug issues – include things like association with drug-using peers, low self esteem, and lack of parental supervision. Positive factors include things like a broad network of adult mentors, self confidence, and parental support.
Make sure your kids know exactly where you stand on the issue. Have a family policy on substance abuse. Be supportive. Encourage honest dialog. Ask questions.
Early intervention matters. If you notice behaviors that concern you, don't wait – act. Trumbull County has a very solid network of behavioral health providers. Check with your insurance to see what clinics or agencies you have best access to. If you're without insurance and/or you're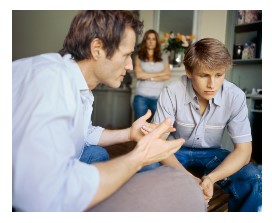 having financial difficulties, the Trumbull County Mental Health and Recovery Board has a network of service providers that offer help – regardless of your ability to pay. You can also call 2-1-1, Trumbull County's free, confidential, 24/7 information and referral service.
Collaborate. If you're worried, talk with your daughter's teachers, your son's soccer coach, the parent of one of your kid's pals. Ask them if they've noticed changes. Enlist their help and support.
A word about parties. Teen parties where there's no adult supervision can be very dangerous venues. Don't allow your teenager to host unsupervised parties at your house. Don't allow your teenager to attend unsupervised parties elsewhere.
A word about your medicine cabinet. Sometimes teens get invited to pill parties. The party-goers are encouraged to bring a handful of pills from their home medicine cabinets – pain killers, anti-depressants, muscle-relaxants, ADHD meds, and whatever else they can grab. Those pills then get passed around at the party, sometimes with unhappy or even tragic results. Know what's in your medicine cabinet. If you have older, unused meds, get rid of them. Click here for information on how to properly dispose medication.
---
Underage Substance Abuse
Warning Signs That Your Child May Have a Substance Abuse Problem
Mood changes, irritability.
School problems: poor attendance, low grades.
Rebelling against family rules.
Switching friends, secretive.
Sloppy appearance, a lack of interest, low energy.
Memory lapses, bloodshot eyes, lack of coordination, slurred speech.
Experts believe that a problem is more likely if you notice several of these signs at the same time, if they occur suddenly, and are extreme in nature.

How Parents Can Prevent Alcohol or Other Drug Use
Be a role model. Be aware of what you say and what you do when coping with stress. Let your actions match your words.

Give a clear, consistent message that alcohol or other drug use is unacceptable and that use will have consequences.

Listen to your children. Tell them that they are respected and their feelings are important.

Ask questions about your children's activities.

Teach children coping skills for stressful situations and how stress can be managed without alcohol or other drugs.

Educate your children regarding the dangers of alcohol and other drugs.

Praise your child. A child with high self-esteem is less likely to use alcohol and other drugs.

Spend time together. Meet their friends and get to know the parents.

Keep life interesting by keeping children active in sports, clubs or activities. Participate with them whenever possible.

Be a parent, not a friend. Give children attention and the assurance that you'll be there with help, guidance and love.

Be consistent. Don't let children drink at home. Illegal is illegal at home or anywhere.

Let children know that peer pressure can be rejected. Role play with them and discuss refusal skills:
1.) Switch topics or walk away
2.) "No thanks, no way!"
3.) "Drugs are bad for you. Why would you use them?"
4.) "I thought you were smarter."
5.) "I don't want to go to jail."
6.) "Why do you keep asking me when I said no?"
7.) "I don't use drugs."
How to Talk With Your Kids About Drugs (Video)
Why You Should Care
Two reasons: First and foremost "our" kids are indeed our future. Their actions today will affect their future and ours for many years to come.
The presence and use of alcohol, tobacco, marijuana, inhalants and other drugs is absolutely linked to many health, social and economic problems that slowly but most surely erode our families and communities.
Illnesses, addictions, accidents, premature deaths, birth defects, violence, domestic or partner abuse, other crimes, unwanted teen pregnancy, school failure or dropout, delinquency, depressed communities, joblessness, and homelessness - all have strong correlations to substance abuse.
If these aren't enough reasons to get involved and get active, try this: drug and alcohol abuse costs you and every member of your family. The White House Council of Economic Advisors estimates that Opioid addiction problems cost $504 billion in 2015. This is 6 times higher than the estimate reported in 2013. These costs are reflected in higher health care costs, higher insurance, more tax dollars for law enforcement and incarceration, lost worker productivity, and on and on.
Prevention is everybody's business and must involve people, groups, and systems at every level of society.

What Parents Should Know
Underage drinking laws:
As a parent, you cannot give alcohol to your teen's friends under the age of 21 under any circumstance, even in your own home, even with their parent's permission.
You cannot knowingly allow a person under 21, other than your own child, to remain in your home or on your property while consuming or possessing alcohol.
If you break the law:
You can face a maximum sentence of six months in jail and/or a $1,000 fine.
Others can sue you if you give alcohol to anyone under 21, and they, in turn, hurt someone, hurt themselves or damage property.
Officers can take any alcohol, money or property used in committing the offense.
Things you can do as a parent:
Refuse to supply alcohol to anyone under 21.
Be at home when your teen has a party.
Make sure that alcohol is not brought into your home or property by your teen's friends.
Talk to other parents about not providing alcohol at other events your child will be attending.
Create alcohol-free opportunities and activities in your home so teens will feel welcome.
Report underage drinking to local law enforcement.
Zero Tolerance Alcohol Policy is a Good Choice for Parents
While restaurants in Germany legally sell alcohol to teenagers after their sixteenth birthdays and French children drink wine with dinner at an early age, new research suggests that U.S. parents who follow this relaxed European example could be increasing the likelihood that their children binge drink in college.

Research conducted by Caitlin Abar, with Penn State's Prevention Research and Methodology Centers, found that there is no scientific basis to the common belief that prohibiting alcohol turns it into a "forbidden fruit" and encourages abuse. Abar presented her results at the 2009 meeting of the Society for Prevention Research in Washington, D.C.

In 31 states, parents can legally serve alcohol to their underage children. Though U.S. teenagers drink less often than adults, they tend to drink more at a time — on average, five drinks in a sitting. About 87 percent of college students try alcohol, and 40 percent say that they regularly engage in some type of binge drinking.

To see if parents permitting underage alcohol use might be an underlying cause of binge drinking, Abar surveyed almost 300 college freshmen and related their drinking habits to their parents' modeling and permissibility of alcohol use. Those students whose parents did not permit them to drink underage — about half of the group — were significantly less likely to drink heavily in college, regardless of gender. Whether the parents themselves drank, on the other hand, appeared to have little effect on predicting their children's behaviors when accounting for the permissibility they exhibited toward teen alcohol use.

Abar cautioned, however, that further research is needed to confirm the preliminary study and that they need to determine if the setting where parents provide the alcohol changes the results. A previous study in 2004 by Kristie Foley, Wake Forest University Baptist Medical Center, North Carolina, showed that teenagers who received alcohol from their parents for parties were up to three times more likely to binge drink within a month, while those who drank only with the family were less likely to binge. So the context in which a parent provides alcohol could be key.

While the sample group used in this Abar's study was comprised primarily of Caucasian college students, previous research uncovered a similar effect in low-income African-American and Hispanic students. A 2007 study of 1,388 children by Kelli Komro, and the University of Florida, showed that schoolchildren who were permitted alcohol in the home by their parents in sixth grade were up to three times more likely to get drunk and almost twice as likely to drink heavily (five or more drinks) at ages 12-14.
Summer is a Risky Time for Tweens
Summer! Just the mere thought of it excites most students, yet concerns many parents (and for good reason). Summer is a known time for increased alcohol, marijuana and other drug use, including first-time experimentation. What sets this season apart? Increased-Unsupervised-Free-Time.
At this transitional age, our children naturally seek their independence and our trust. But, the two can make for a risky combination, given the allure and pressure of, "friends and fun."
Keep your child safe and drug-free with these Summertime Tips:
Set Summertime Rules: Make clear your rules regarding unsupervised time spent with friends, as well as your expectations surrounding drinking, smoking and other risky behaviors.
Supervise: If you are unable to be physically present when your child is at home, ask a neighbor to check in, or consider hiring a "buddy-sitter" to hang out with your tween during the day. Unsupervised youth are three times more likely to use alcohol or other drugs.
Monitor: Know with whom and where your child is at all times. Randomly call and text your child to check in, and don't be afraid to check up on your child by calling another parent.
Engage: Provide some structure to your child's summer by engaging him/her in a supervised activity (sports, camps, classes, etc.) or maybe even a summer job (babysitting, mowing lawns, dog-walking,etc.).
Team Up: Connect with the parents of your child's friends and agree to each take a turn escorting the group of tweens on a local outing of their choice (zoo, amusement park, museum, etc.).
Stay Involved: Show your child you care by taking time out of your busy schedule to do something fun and interactive together this summer (head to the movies, volunteer together, take a bike ride, etc.).
Communicate: Regardless of season, it is always a good time to talk to your child about the dangers of alcohol, tobacco and other drugs. Open (or maintain) the lines of communication and be your child's trusted source of information.
Help your child enjoy a safe and drug-free summer, filled with positive experiences and fun times with family and friends.
This information provided by Know!, a program of the Prevention Action Alliance.
Try these quick links for additional information and resources:
Start Talking- A website with tools for parents, guardians, educators and community leaders to start the conversation with youth about the importance of living healthy, drug free lives
Drugs, Brains, and Behavior - The Science of Addiction- Information provided the National Institute on Drug Abuse
The Partnership at Drugfree.org- a New York City-based non-profit organization which runs campaigns to prevent teenage drug and alcohol abuse and offers resources for parents and teenagers on its website.
Know!- Provides the parents and caregivers of middle school-age kids the education, strategies, and empowerment they need to raise children who are healthy as well as alcohol, tobacco, and drug-free.
Smart Moves, Smart Choices- Learn the facts about the serious issue of Teen Prescription (Rx) Drug Abuse, watch videos with Dr. Drew and learn what parents, teens and educators can do.
Talking regularly with kids reduces their risk of using alcohol, tobacco and other drugs